Rock Solid Youth Ministry

Matthew 7:24 says, "Therefore everyone who hears these words of mine and puts them into practice is like a wise man who built his house on a rock." The mission of Rock Solid Youth Ministries is to give our students a firm foundation in the Lord; to walk alongside our youth and build them up in the Word. Our goal is to help them learn to build and maintain good Christian relationships through fellowship and teaching.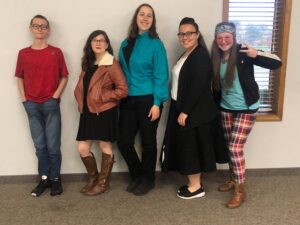 We en joy a solid foundation in learning, snacks, and a fun time together. We would love to have you join us! We meet at 6 p.m. Wednesday's at our Batesville Campus. Students in grades 7-12 are invited to share in our fun and fellowship! If you have any questions or would like more information on attending one of RSYM's services or activities, please call the church at (812) 934-5192 or you can email Pastor Aly Wright at pastoraly@cotraog.org.

Rock Solid Youth Ministry Students Received Incredible Support In 2020 For Speed The Light! The Group Raised More Than $2,000 For The Student-Initiated, Volunteer, Charitable Program. This Program Provides Much-Needed Equipment To Missionaries Across The Nation And In Over 180 Countries Around The World. Our Students And Adults Rose To The Challenge Of Being 1 In 1,000! Great Job Everyone! Thank You To Everyone Who Helped Support This Mission in 2020!